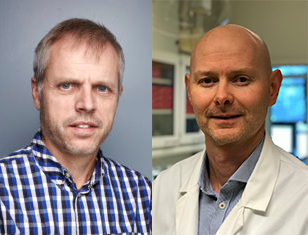 "To establish a sustainable working environment, we need a better understanding of what factors at the workplace that are associated with pain"
Course leader presentation: Dagfinn Matre and Johannes Gjerstad
Online Course: Work and Pain
14th – 16th of September 2021

What is your background?
Dagfinn Matre has a PhD in biomedical engineering from Aalborg University, Denmark. His main interests are human experimental pain models, and currently the association between sleep and pain, which is particularly relevant for shift and night workers.

Johannes Gjerstad has a PhD in human physiology from University of Bergen, Norway, and is currently holding a professorship in physiology at University of Oslo, Norway. Gjerstad's main interests are stress, genetics and subjective health complaints.

Why do you think that work and pain is an important and current issue to discuss in 2021?
Work-related musculoskeletal pain complaints are common in the general working population. Thus, such pain states have enormous economic consequences. To establish a sustainable working environment, we need a better understanding of what factors at the workplace that is associated with pain.

What would you like to say to the participants of the course?
The course will present current knowledge on pain physiology and on how work-related risk factors contribute to pain. The course is relevant for Ph.d. students, post docs and researchers interested in work and pain.

More information: Course web page
Registration: Course registration
Last registration date: September 7th 2021